Rotary valves
Standard type rotary valve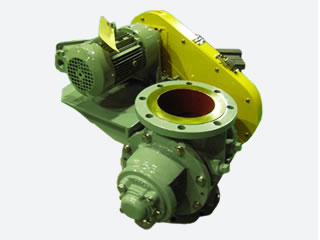 This is a double-bearing rotary valve for general use. Because of two functions; supplying powder at fixed rate and sealing differential pressure, this rotary valve can be used at many places, such as manufacturing factories and power plants. We produce a variety of specs; for example, rectangular/circular flange, as well as small/large sizes. The optional specification includes inspection windows, prevention of biting at inlet, and adhesion avoidance. Material of main part is SS400 or SUS304 in principle, but if any request, please tell us.
Sanitary rotary valve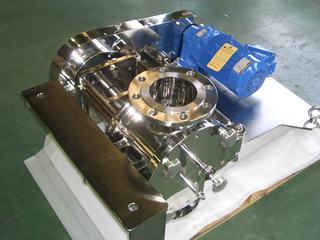 This valve is a quantitative supply type that is used for manufacturing powdered food or medicine (e.g. powdered-grain, seasonings, or powdered medicines). You can disassemble, inspect and reassemble while keeping the unit in-line, so the product is kept clean at all time.
Powdered paint and toner manufacturers praise the functionality and convenience of this valve. We can make this valve totally from stainless steel, including motor-base and chain-cover.
Special specification rotary valves
The following shows some examples.
Blow-through valve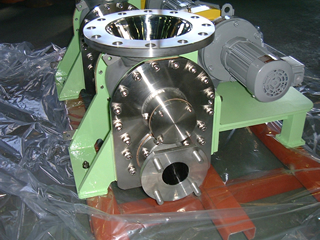 You can connect this valve directly to the pressure transport line. Powder hardly adheres to the rotor, because the wind from the blower hits the rotor pocket directly, so clean and well-closed transport is possible. This valve can save space because of connecting directly to the transport line.
This is used to produce foods which have a low bulk density (e.g. powdered milk and instant coffee), and also the large-size valve is good to loading and unloading work.
Scraper type rotary valve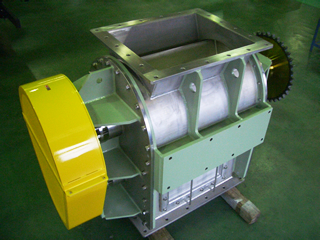 This valve is best for the quantitative discharging of sticky powder. The rotor turns synchronically with the scraper which scrapes out the powder from the rotor pocket, resulting in stable discharge.This is used at power plants and waste treatment plants, and discharge adhesive and wet coal, ash, or industrial waste.
Rotary valve for Biomass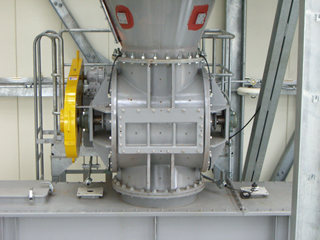 This rotary valve is used to supply a fuel (e.g. wooden chips or plastics) to a biomass boiler. It is best to large size powder, because rotor structure causes little biting or clogging. This valve is also used to discharge crushed waste at many waste treatment plants.
High-temperature and high-pressure rotary valve (for IGCC; Integrated coal Gasification Combined Cycle)
By our experience and record of powder processing machine producing over long years, we have developed a shaft sealing device to high temperatures and pressure, and obtained a patent.
This rotary valve is now working at all three IGCC power plants in Japan.
Not only for the rotary valves, this shaft sealing device can be used at a variety of machines in high-temperature and high-pressure environment.
We believe this device will play an important role in many shaft-sealing systems.

Specification (Example): Design pressure: 3.97 MPa; Design temperature: 450°C
Titanium-lined rotary valve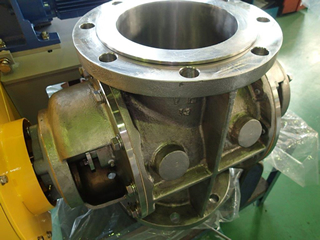 This is a rotary valve that is suited to a corrosive environment containing corrosive gas or seawater. Compared with a product made totally from titanium, titanium lining attains a significant cost reduction. The boundary between the titanium and base material cannot be identified visually.
Abrasion-resistant rotary valve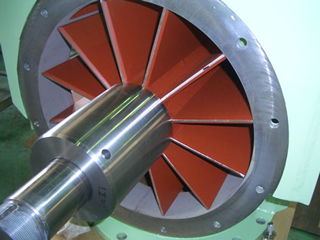 The rotary valve we have developed features high abrasion-resistance given by thermal spraying carbide over the sliding part and giving the shaft sealing device a special structure (patent pending). The abrasion resistant continues longer, more than 10 times that of our conventional products. As a result, we have achieved a dramatic performance improvement. This valve is best to the air pressure transportation of abrasive powder (e.g. burned ash or mineral powder), especially on the high-pressure outlet side.
Other powder processing machines
We supply best machine for your needs.
Double damper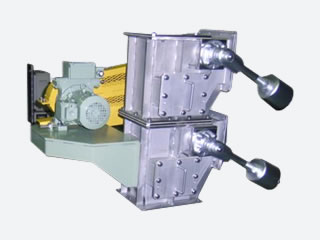 This damper has a mechanism of discharging powder while always sealing the differential pressure by opening and closing the upper and lower valves plate alternately. It has three driving options: air cylinder, electric motor, and manual. The valve plate is basically covered with a rubber packing, but you can choose a metal-touch packing according to the temperature. Both the inlet and outlet can be circular or rectangular. The four inspection windows make it easy to clean the inside and to change any parts, including the valve plate.
Slide gate valve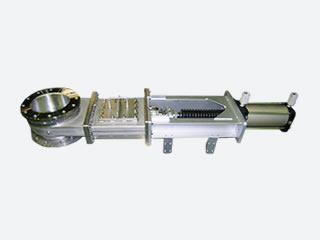 This valve has three driving options: manual (handle or chain), air cylinder, and electric motor. Both the inlet and outlet can be rectangular or circular. We can make the type featuring high sealing performance to be used in an environment having high differential pressure.
Diverter valve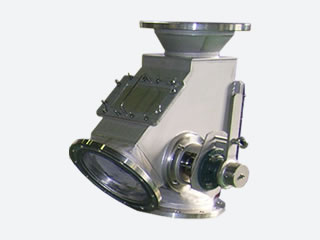 This product has a structure in which the powder flow direction changes by switching the position of the swinging valve plate in the casing. It has two driving options: manual and air cylinder. Both the inlet and outlet can be rectangular or circular. You can talk with us about the branch curve degree and face-to-face dimension. If you want high sealing performance, we wrap a rubber lining around the valve plate.
Specialized machines
We manufacture only one product according to your request.
It's OK if you don't determine the precise specification of the machine.
"Can you make a machine like this?" , it can be the start.
The following shows some examples.
Vertical vacuum furnace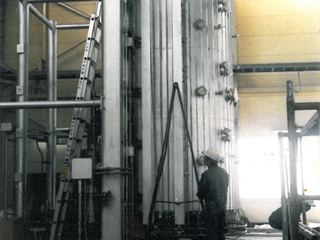 We made this product as an auxiliary device for increasing the capacity of an accelerator delivered to KEK (former High Energy Research Lab) based in Tsukuba City.
The vertical vacuum furnace can heat a huge vacuum unit (i.e., annealing or brazing). You can perform all operations on the stage installed in the main unit, which enables vacuum heating with no vibration. The product is suitable to the degassing process of the components of a vacuum furnace and to the vacuum heating of large-size pipes (containers).
Specifications (Example)
| | |
| --- | --- |
| Volume | Φ1800×3900h |
| Capacity | 700℃ ×10‐8Pa |
| Material | SUS310S |
Other special products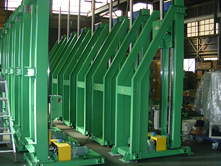 Elevator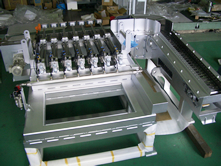 Forged work line-up machine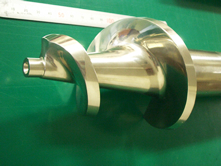 Squeezing screw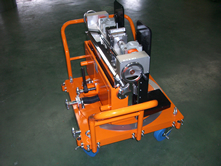 Baseplate attaching carriage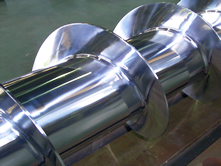 Sanitary screw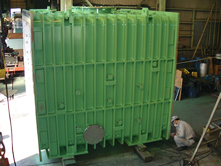 Large-size vacuum container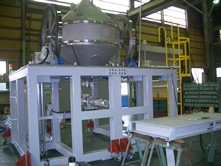 Powder mixer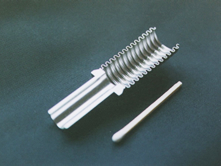 Welding a flexible tube
Shaft sealing device (patented)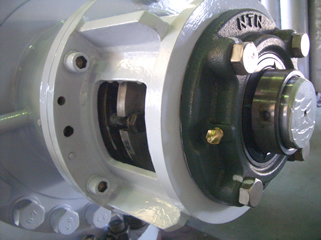 Appearance of the shaft sealing device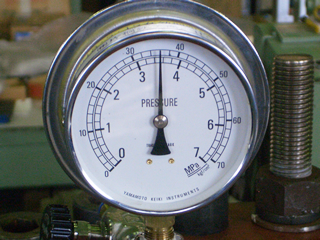 3.4MpaG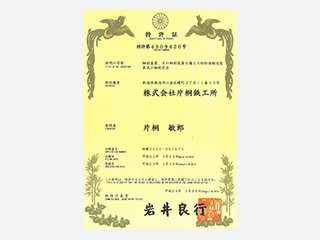 A unit for preventing a gas or powder from leaking from the main shaft of a powdered material supplier is called a shaft sealing device. Most of the machines used to run at a pressure of 6,000 to 8,000 mmAq. Because of environmental and energy problem in recent years, many companies have tried to develop a high-temperature and high-pressure shaft sealing device according to a request from the industrial world aiming at high efficiency, but they couldn't succeed.
Any leakage from the sealing part of the main shaft accelerates the abrasion of shaft, resulting in a secondary disaster risk, so powdered material processing manufacturers awaited the development of a machine having outstanding sealing performance.
We are familiar with the characteristics of powder appliances and have a lot experience and record, and we started to develop a shaft sealing device in 1981. At that time, the market required general-purpose products, but the demand has changed to the shaft sealing of pressure containers. We made and tested prototypes repeatedly, and in 1982 completed a shaft sealing device for pressure containers rated at 20 kg/cm2 (2 MPaG).After that, we repeated the development and improvement, resulting in a shaft sealing device having a pressure tightness of 34 kg/cm2 (3.4 MPaG) and a heat resistance of 450°C as well as the acquisition of patents. We believe this product will play a key role in clearing a problem regarding shaft sealing that many manufacturers face in their equipment.
Our valve with the shaft sealing device is used for material (powdered coal) supply at three IGCC project: Nakoso Power Plant in Fukushima Prefecture, Wakamatsu Power Plant in Fukuoka Prefecture, and Osaki Power Plant in Hiroshima Prefecture.
In the future, this valve is expected to work as a unit that supplies material to a dry distillation machine that extracts various ingredients from powdered minerals.